Learning on the Farm
by Meg Taylor
for The Farm Education Collaborative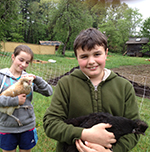 The Farm Education Collaborative led three new children's programs and family workshops at Crimson & Clover Farm this spring.  The children's programs met weekly while the family self-reliance workshops, Raised Bed Food Production,Backyard Chickens, and Cob Oven Building, were held on weekend days.
In the Little Growers caregiver/child program, children ages 0 to 5 and their grown-up were shown how to plant and care for vegetables and fruit growing in the new children's garden behind the distribution barn.  All participants enjoyed their time visiting with the pigs, singing farm songs, listening to stories, and making nutritious snacks with one another.
The home school program, Spring Planters, also spent time planting and harvesting in the garden while learning about plant parts, beneficial insects, feeding chickens, and making observations for their farm journals.
The Young Farmers, an after school program for middle school youth, spent each week helping the farmers with field tasks (like mulching paths and picking strawberries!), meeting and learning about the pigs, visiting chickens, fiber rabbit and donkey, and made simple recipes using farm produce and local ingredients.  Some of the Young Farmers favorite snacks that they made were the garlic scape pesto, fresh goat cheese, and scrambled eggs with cheese and herbs.
The Farm Education Collaborative is looking forward to being back on the farm in the fall to offer more food and farm-based programming for all ages.